Userscript: clothcalc
the tw-db.info ClothCalc gives you an ingame window that display the best cloth for jobs and other activities
Download
Google Chrome?
Installing UserScripts (GreaseMonkey) has become a bit more complicated in the recent version of Google Chrome, affecting our Quick Import Button and ClothCalc scripts. The browser currently requires that you install all UserScripts only from the Chrome Web Store. There is currently a workaround for this problem, so we are not going to upload our scripts to Chrome Webstore yet (it would cause us quite some complications).

Workaround:
After clicking on the script link (those can be found in the same places like before), the browser will download a file with the extension .user.js. We recommend to delete all the ClothCalc files from your Downloads folder before you click the link. Alternatively, make sure the file isn't renamed to something like anything.user (1).js, if yes, rename it to anything.user.js, it won't work otherwise - Chrome will display the contents of the file (a looong text you probably won't understand :-)).. Once that is done, open Menu => Tools => Extensions (or go to the address chrome://chrome/extensions/) and drag this file inside the Extensions tab.
How does it work
This Script loads the best possible Wear from the tw-db.info Server. There will be no local calculation of this data because getting this data from tw-db.info server gives a lot more performance than local calculation.
Requirements
Registered account on tw-db.info
Imported game char on tw-db.info
Be logged in on tw-db.info while getting calc data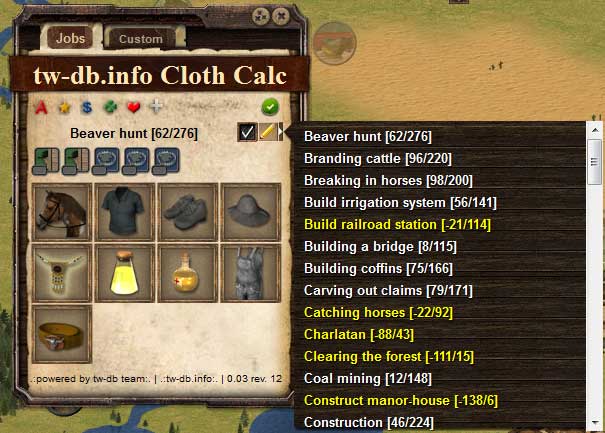 Release Notes
0.33
[main] ready for 2.07
[questwiki] added option to switch between introduction / completion texts in the quest book (already last version)
[questwiki] added option to always show full quest texts (default OFF!)
[buytip] fixed buying tip issues
[jobs] motivation calculation adjusted for 25% steps
[main] BUGFIXes: server data loading sometimes got stuck; CC not working for players below level 10
0.32
small update for game version 2.06; hotfix for beta worlds
0.31
tiny update for game version 2.05
0.3
script is now ready for gameversion 2.04 there are still some fields to fix, but the most parts should work
0.25
[bonusjobs] security query before reset
[bonusjobs] sorting of the export
[chestanalyser] some stats for future drops of chests, bags & collector cards
[marketreminder] add reminder for market offers
[other] button for deposit money

0.24
[ClothCalc] Bugfix, Motivation was not included at Wages
Features listed below comes from an other Userscript "stewues The West Tools"
As he decided to stop Offering his tool, he has asked me to include this Features into our Script.
First at this Point Thanks a lot! Stewue for your hard Work and your Decision to Offer this Features now through this Script.
- button for sleeping into best hotel room or fort barrack
- confirmation prompt before quest cancel
- hint to deposit cash
- button for last post on ingameforum threads
- moved button for new post on ingameforum to upper menu
- add duelmotivation into userinterface
- remove automation pa hints, like the nugget picture on work queue
- activate Fortrecruitment also for non generals and captains
- enhance the Fortrecruitment through some more Features
- the market map

0.23
[general] script is ready for version 2.03, all features should be working
[clothcalc] added the wages values, honour to petee for his great work to find out the wage formula

0.22
[clothcalc] fixed Bug with faulty Detection of corrupted Cache
[questwiki] Show tw-db Link on Questwindow
[questswiki] Show total Amount of Items at Inventory
[questswiki] Button for Open the ClothCalc Window
[buytip] added new sets
[buytip] fort boni of natty where wrong

0.21
[general] fixed failed script start at gameversion 2.02
[errorlog] fixed Error through new Notification-Bar Object at gameversion 2.02
[settings] added Group for the SellTip Settings
[SellTip] add Option for never sell Set-Items
[bonusjobs] discovered Bonus Jobs are now cached
[bonusjobs] add Export and Import for discovered Bonus Jobs
[other] Option to remove the Game-Hints on Notification Bar, which could not be disabled through Game-Settings
[other] Option for a Scroll-To Inpute Field on Minimap
[ClothCalc] fixed the Bug, that Joblist is sometime not clickable
[ClothCalc] fixed the Bug, missing fastes animal on bestwears without animal
[chat] fixed bug for missing smiley and color inject on chat windows, which are already opend on gameloading
[general] removed script parts for gameversion 1.36
0.2
[general] reworked the Script for the-west Version 2.0
[general] Release Notes for Script is added ingame
[Importer] the Import Userscript is now included in ClothCalc Userscript (for Gameversion 1.36 you will still need it)
[Importer] the Alliance Import Script is now directly available through the script
[ClothCalc] Basic Function is working (showing best cloth)
[ClothCalc] Values for Wages and Danger when sorting the Joblist are wrong! , so temporarly this feature this sorting is removed until our date is up2date
[ClothCalc] preselecting the selected Job on Minimap is ready for Version 2.0
[ClothCalc] the sorted job List (experience, wages) could be changed from normal mode to value per minute to value per energy point
[ClothCalc] Joblist is reworked, jobs could now be searched and jobs have little popup with complete job data
[FavoriteJob] this Feature has been removed because it now emulates a premium feature
[SearchJob]the jobsearch is Version 2.0 ready, the direct start of one of the four shown job is a pa automation only feature (innos decision]
[ReportAnalyser] the basic function is reworked for game version 2.0
[ReportAnalyser] detailed job report and detailed item report will be added later
[Chat] is ready for Version 2.0
[BuyTip] is ready for Version 2.0
[BuyTip] set bonus is now also included here
[BuyTip] also shown on market now
[Collector] is ready for Version 2.0
[Collector] also shown on market now
[SellTip] is ready for Version 2.0
[BonusJobs]Bonus Jobs you've found are now shown on minimap


Possible errors

Worker this.calcdata is null or injected [object Object] function: sellTip this.calcdata is null

Please open Import script (icon above clothcalc), click Settings tab, on right hand side at the bottom click Reset Local storage data. it should work.

Bad Request [212]


You are logged into your tw-db account, but Cloth calc cannot load any data as you haven't imported any data from the game or imported data are corrupted. Please try to import again.

TypeError: TWDB.ClothCalc.init is not a function


Installed Cloth calc script is corrupted or not installed correctly. Please uninstall old script and install last version. We also recommend delete cache before you install new script.

Fatal error: failed to register tw-db.info script on TheWestApi


You have more than one script installed. Please check and uninstall all Cloth calc scripts. You can have only one instance installed at a time.

Calculated values are different to ones in the game


Please check if loaded data are up to date. Click on red icon and update your data. Check for calculation again.